Our staff's commitment to you
Our staff is committed to providing support, compassion, information, and direction as needed to all members of our community, their families, and friends who are dealing with loss and grief.
Asa Smith Parks Funeral Service Center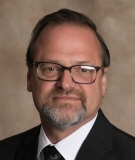 Matthew Jon Leeper
Funeral Director
mleeper@smithparks.com
Matt is from McAlester, Oklahoma and currently resides in Jones, Oklahoma. He attended Eastern Oklahoma State College and received a Bachelor's Degree in Funeral Service at the University of Central Oklahoma in 1990. He has been active in both Lions Clubs and Rotary Clubs and he is a member of the Newalla First Baptist Church. Matt has been with Smith-Parks Funeral Service as a funeral director at the Harrah location since 2001.